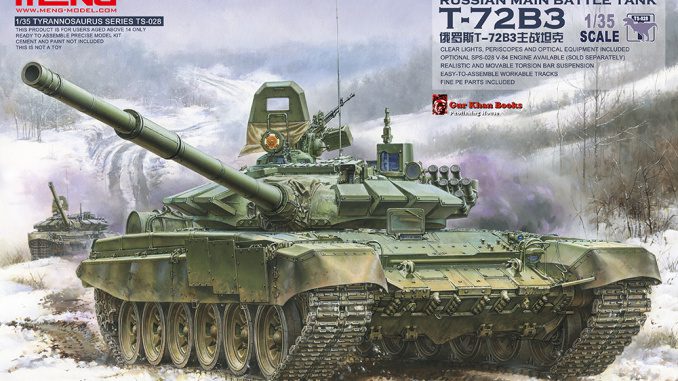 The T-72 main battle tank, the most representative Soviet tank during the Cold War, was once the symbol of the Soviet Army's strength. About 40 years later, a new T-72B3 MBT entered service with the Russian Army.
The Russian T-72B3 MBT, as an important complement of the T-90 MBT, has received a series of modern improvements on the basis of the T-72B tank. It's installed with the new Sosna-U multi-channel sight, a modern 125mm 2A46M-5 smoothbore gun, a 7.62mm PKT coaxial machine gun and a 12.7mm Utjos NSVT anti-aircraft machine gun. It's fitted with the Kontakt-5 explosive reactive armor for better protection. It also receives new double-pin tracks. The T-72B3 tanks started service in 2012 and appeared in the Tank Biathlon and the Ukraine conflict.
We want to express our gratitude to the Gur Khan Books Publishing House and Mr. Alexey Khlopotov for their authoritative reference materials. With such materials, we had the chance to present the accurate and precise MENG TS-028 1/35 scale Russian Main Battle Tank T-72B3 plastic model kit. Now, let's take a look at it.