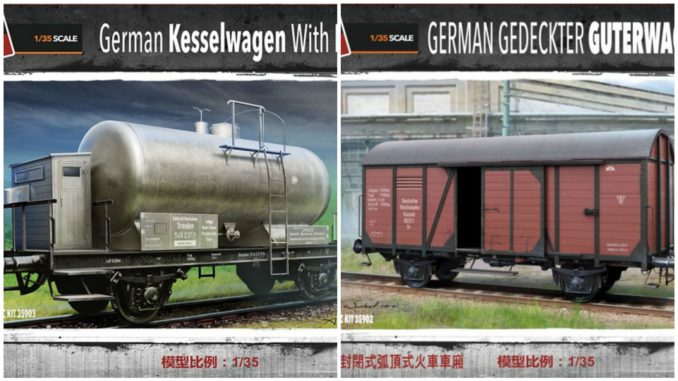 1/35 German Gedeckter Guterwagen G10
Product number 35902
3D-рендеры:
Тестовая сборка:
Дополнительная информация с сайта производителя:
– 210 plastic parts (sprues 2xA,2xB, C, 2xD1, 2xD2) with slide and multi- side slide molded details
– accurately reproduced under carriage and air brake system
– faithfully reproduced wooden texture
– door can be assembled any any position
– optional appearance choices
– PE detail sheet, 3 decal options
Another  of the most known and widely used  German wagons. With some changes of design produced in thousands pieces since 1927,  with or without brake cab, these wagons were by German Reichsbahn  to transport goods and often animals as well. During the WWII they became an important part of any military train heading for the battlefield, filled with supplies or soldiers. Here is one of these wagons, they could vary in small details, depending on manufacturer and year of production.
1/35 German Kesselwagen With Brave Cab
Product number 35903
Tank wagons to transport various liquids appeared as soon as the railway itself. In Germany many different  designs were used since 19th century – unlike most of other wagons, these were not manufactured in large numbers in certain factories or on demand of the Deutsche Reichsbahn, but they were rather borrowed or rented by DR from private owners and companies. These wagons played one of the most important tasks during WWII, taking care of fuel supplies to the battlefield