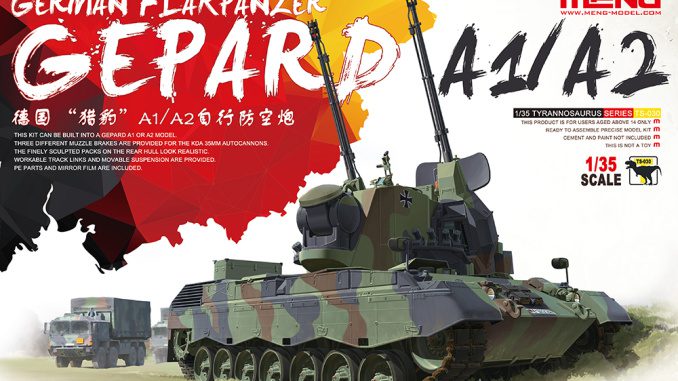 Информация с сайта производителя:
Defending The Sky: The Gepard's Story
Nowadays, there are countless anti-aircraft weapons with a maximum firing range of over 100km. However, on the west side of the Iron Curtain in the last century, the Flakpanzer Gepard self-propelled anti-aircraft gun with a maximum firing range of 4km was a rare powerful anti-aircraft weapon.
In 1973, the Gepard was formally finalized. It opened a new era of self-propelled anti-aircraft gun by combining firepower, fire control and power supply in the vehicle. It's based on the chassis of the Leopard 1 main battle tank. It's lengthened by 80mm to place a Daimler Benz 4-cylinder auxiliary engine. It has two 35mm L/90 KDA autocannons, a search radar and a target tracking radar. After the fall of the Iron Curtain, the Gepard has been upgraded to the A2 version. A new cooling system is added to the rear of the turret. New muzzle brake and tracking radar are installed to replace the old ones to meet the operational needs in the new era. Gepard operators include Germany, the Netherlands and Belgium, etc. It's the No.1 self-propelled anti-aircraft gun in terms of production quantity and quantity in service.
Nowadays, the Gepard which was born in the Cold War has been upgraded by the technology of the new era. The new MENG TS-030 1/35 German Flakpanzer Gepard A1/A2 plastic model kit can be modeled as a Gepard A1 or a Gepard A2 vehicle. Now, let's take a look at the Gepard!