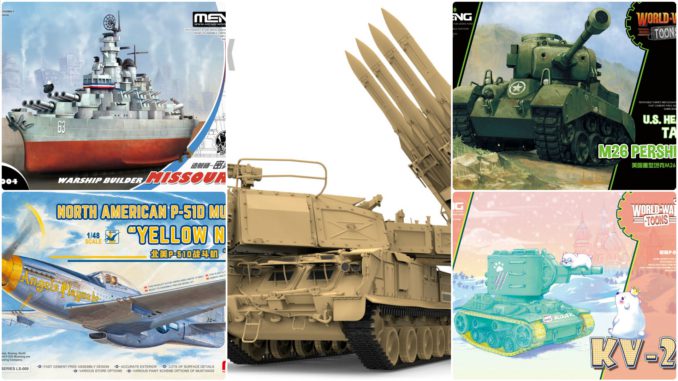 SS-014 9K37 BUK-M1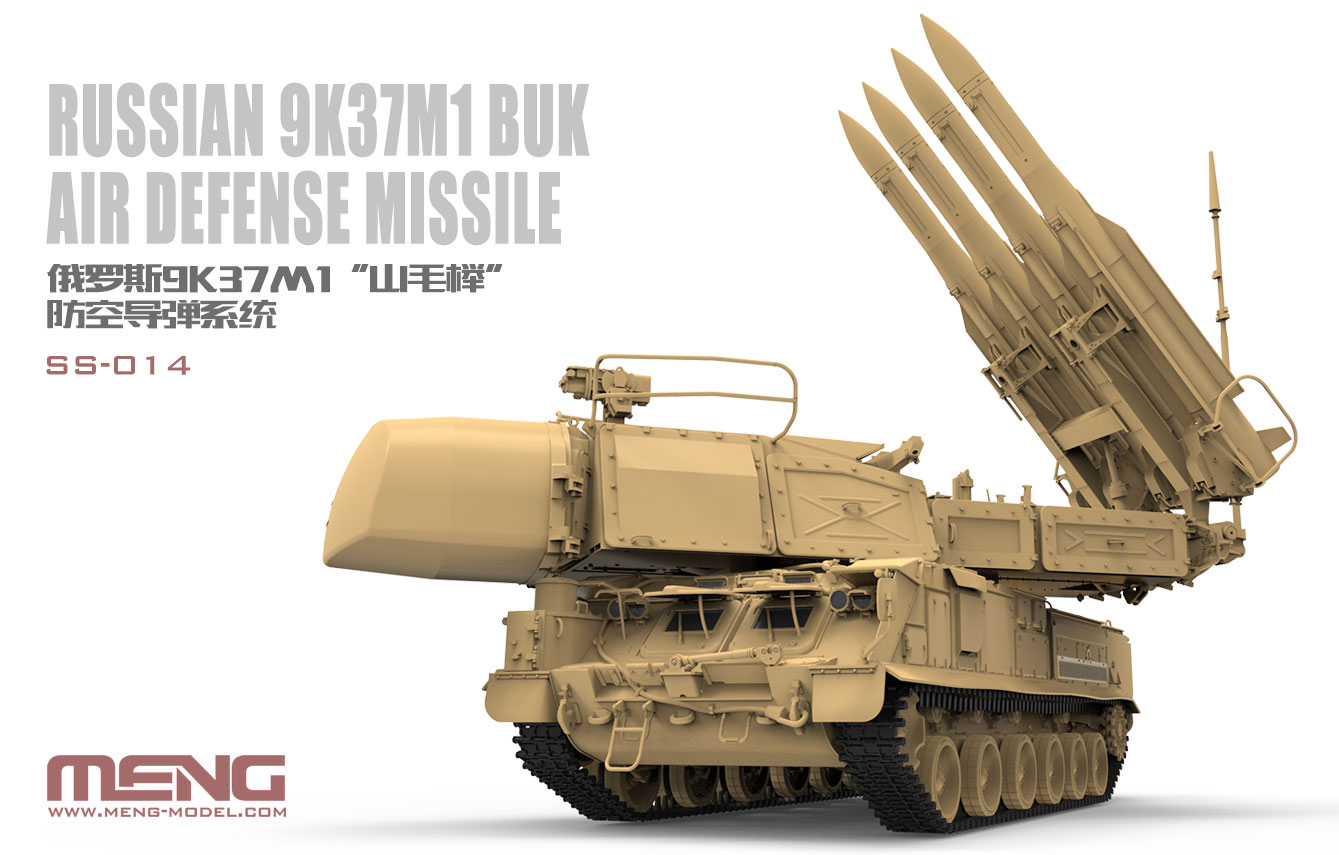 The Arrow That Streaks Across The Sky
Which is the most reported Russian weapon? T-90A or Su-35? Maybe you are surprised of the answer, but it's strange to you. The 9K37 Buk air defense system has taken part in almost all the regional conflicts and got some victories. Buks shot down several Georgian aircrafts in South Ossetia in 2008. In 2012, they were emergently exported to Syria against potential NATO armed intervention. In April 2018, Buks shot down Tomahawk cruise missiles in Syria. It's no doubt that the Buks have become a start in the news reports. Both its victories and its typical cold war appearance have been impressive to modellers.
The design concept of MENG modern armor subjects has been continued on this SS-014 9K37 BUK-M1 Air Defense Missile System plastic model kit. It features movable suspension, workable tracks, movable missile launcher and vinyl pipeline. It includes a track assembly jig. It also includes clear optical parts and precision PE detail parts. Are you ready for this kit?
LS-009 North American P-51D Mustang "Yellow Nose"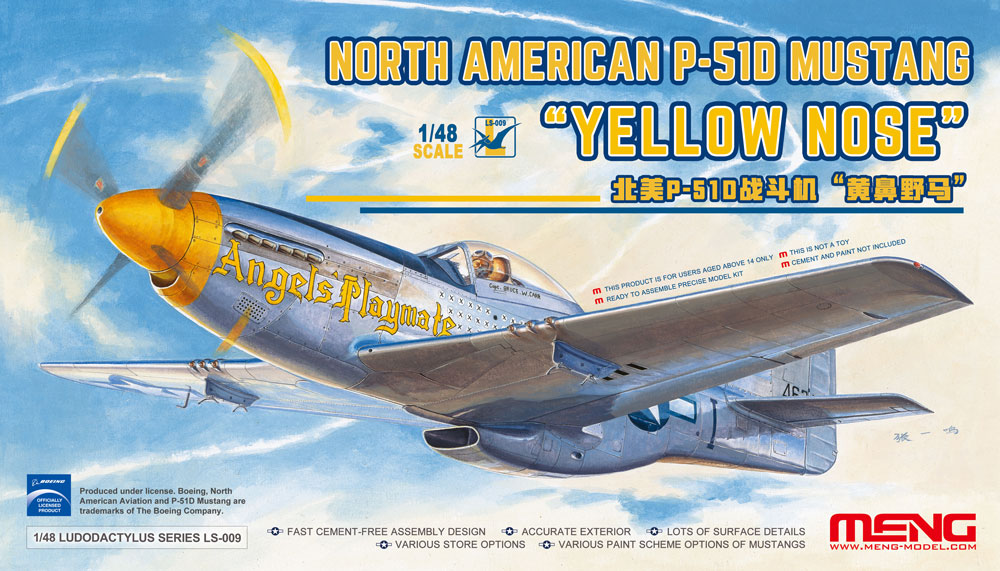 Mustang, The Sky Hunter
The P-51 Mustang fighter developed by North American Aviation was the best single-engine fighter in term of general performance during World War II. It had top aerodynamic design and power in WWII. The P-51D was the most important Mustang variant. It had improved fuel capacity and could provide the pilot with better visibility. It's the most produced Mustang. In late WWII, the U.S. military equipped with Mustangs gained air superiority. Their aircraft paintings changed from the previous flat camouflages to natural metal color accompanied by highly saturated recognition colors. Thanks to its beautiful exteriors and outstanding performance, the Mustang is popular among modellers.
This MENG LS-009 North American P-51D Mustang "Yellow Nose" plastic model kit has two paint schemes with yellow recognition color. The box art features the aircraft of Bruce·W·Carr who's a P-51D ace with 25 victories. The assembled model will be 205mm long and 236mm wide. This kit also has features like fast cement-free assembly design, accurate exterior, lots of surface details and various store options.
WWT-010 U.S. Heavy Tank M26 Pershing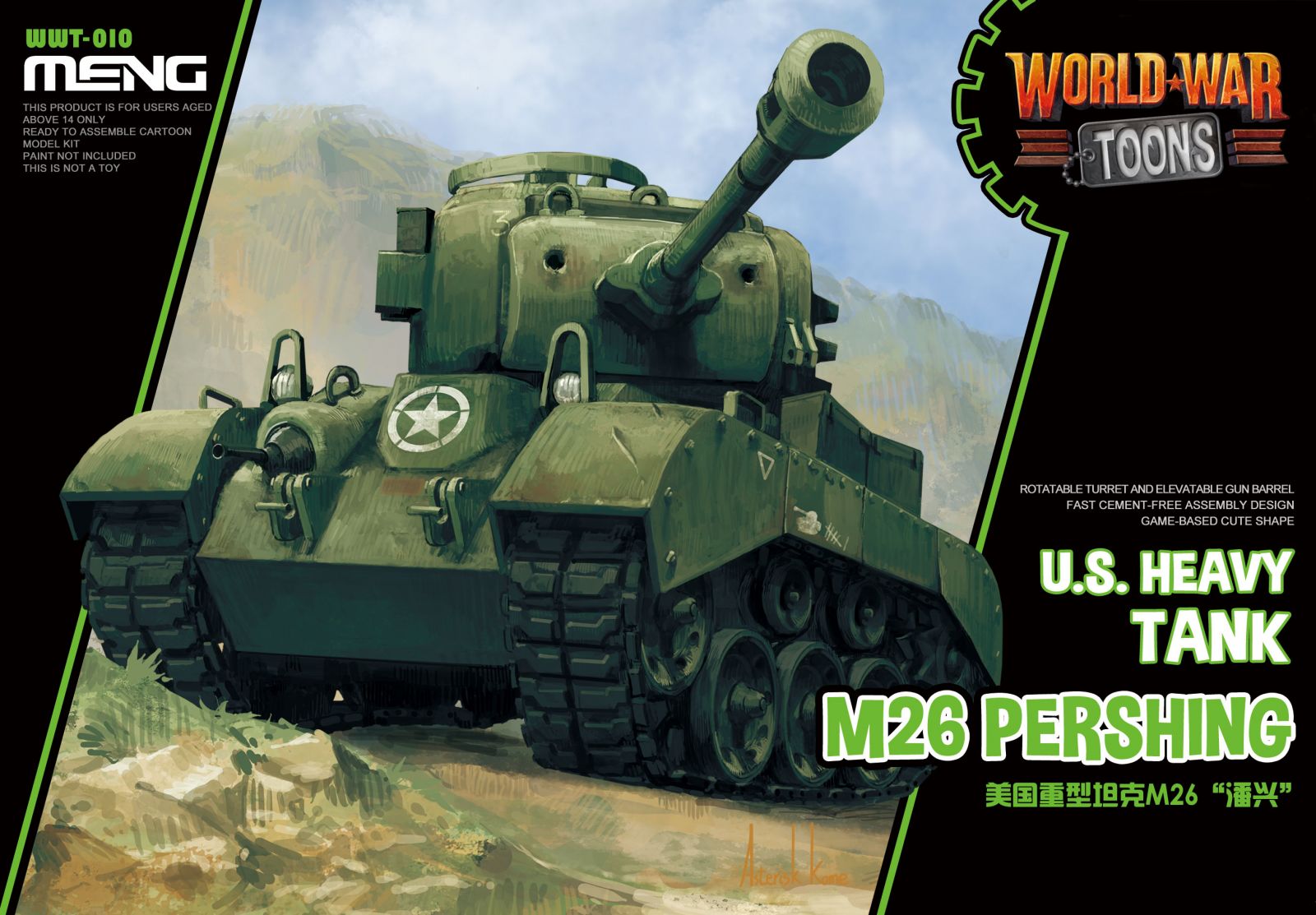 Here Comes The Most Powerful Allied Armor
In 1945, the U.S. heavy tanks finally arrived at frontlines in West Europe. The Pershing tank was powerful enough to suppress the German heavy tanks. It also had the horrible advantage in number. About 2,000 Pershing tanks were produced by the U.S. within half a year.
This is the 10th World War Toons game based plastic model kit presented by MENG and Studio Roqovan. This MENG WWT-010 U.S. Heavy Tank M26 Pershing carries the features like snap-fit design and excellent building experience of the WWT series. Come on and enjoy this kit!
WWP-004 KV-2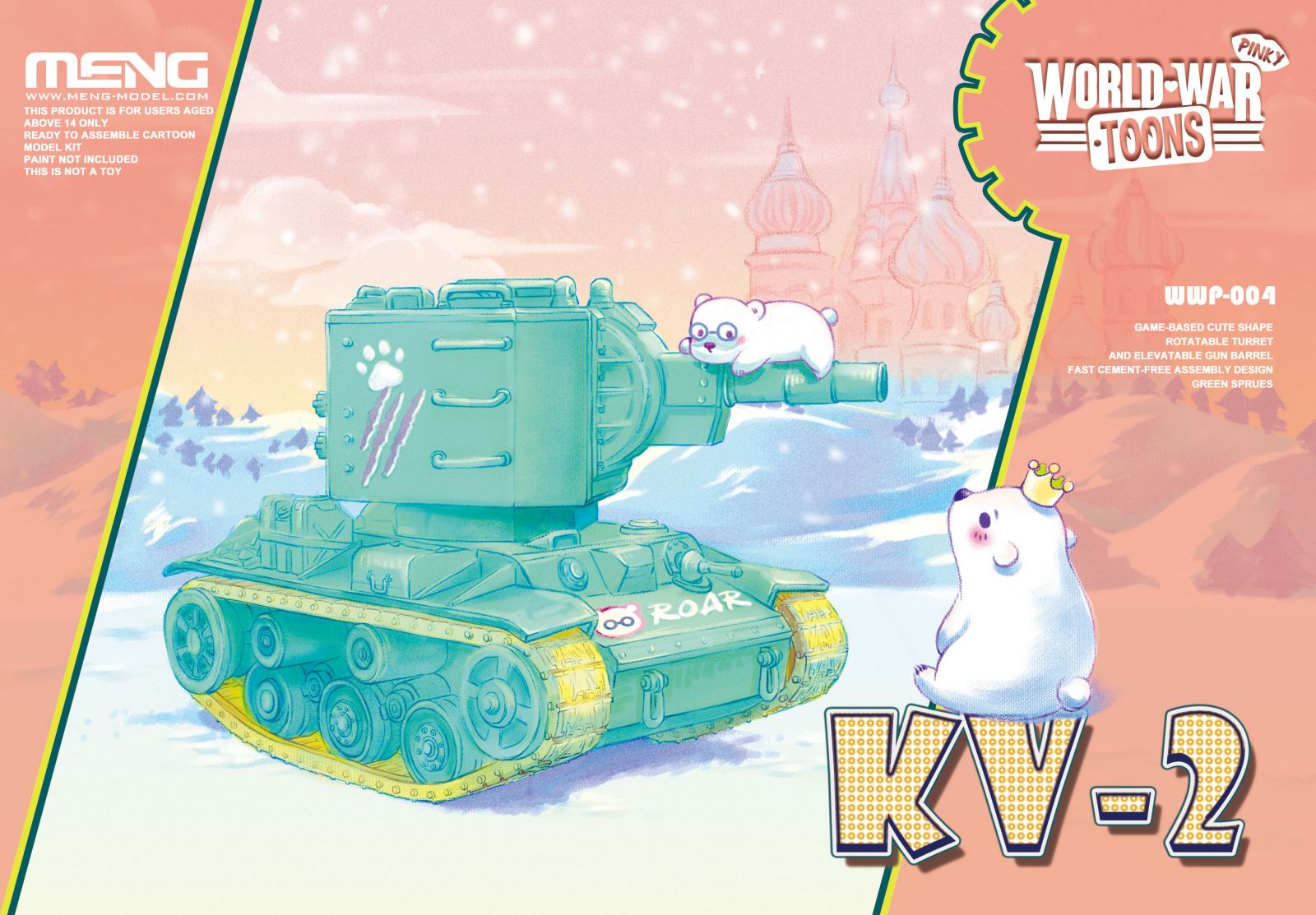 A New Shining Cute Armor
The MENG WWP-002 M4A1 Sherman released some time ago has been so popular among modellers. Most excitingly, many female modellers and modellers from other subjects have been attracted by its cute exteriors and amazing color.
Now we have the latest WWP product, the WWP-004 KV-2. This product is also based on the corresponding WWT model. Like previous kits, it features snap-fit design and pre-colored parts. How can you miss this kit with shining color and lovely bear images?
WB-004 Warship Builder Missouri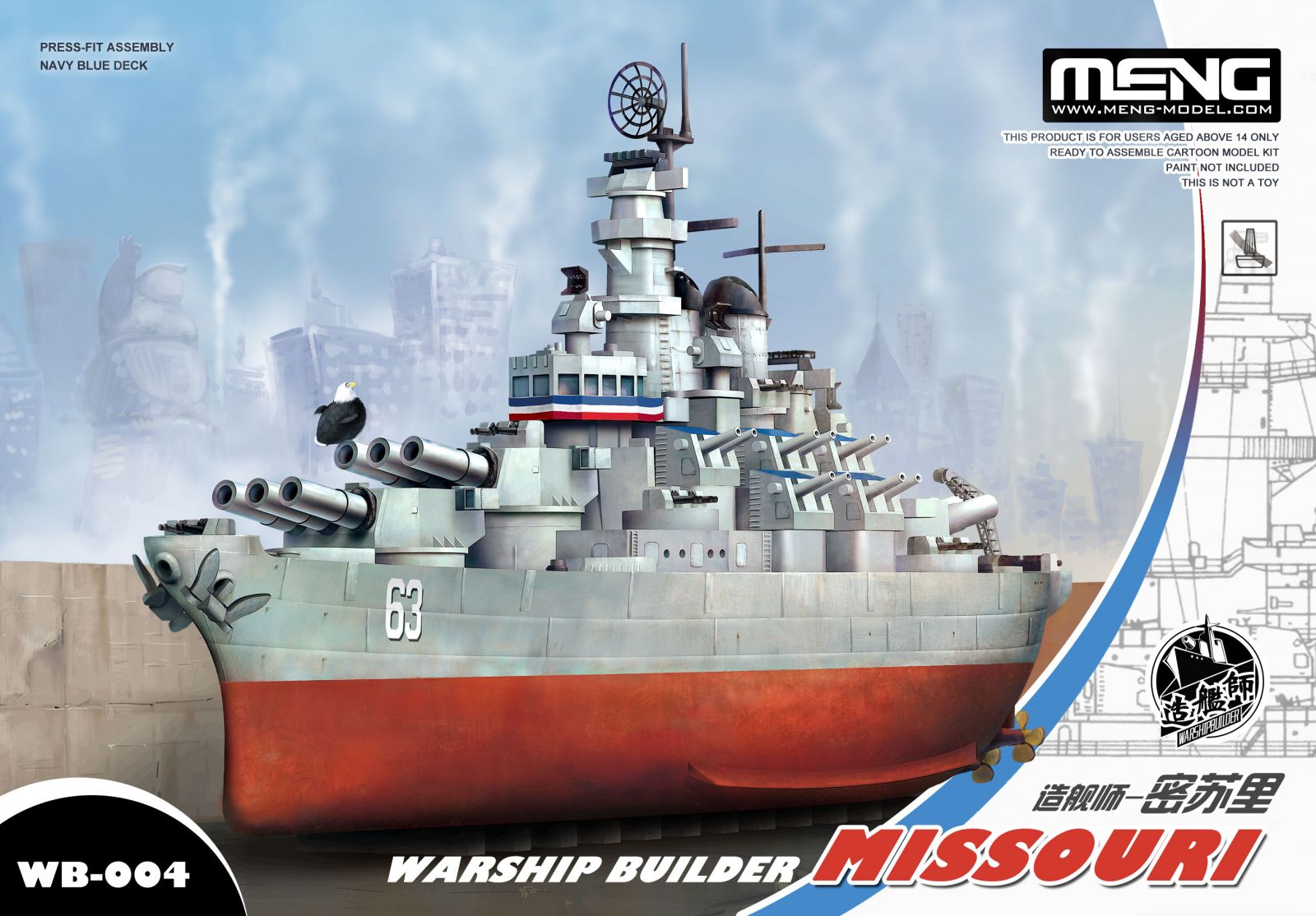 The Latest Warship Builder Kit
The U.S. Navy battleship USS Missouri, one of the most powerful battleships in human history, is a name well-known to every military enthusiast. She's the favorite subject of many modellers.
Now, MENG presents a different Missouri model. The WB-004 Warship Builder Missouri is the latest plastic model kit of the Warship Builder series. MENG's designers have managed to present a cartoonized warship model by highlighting the unique features of the real ship. Parts are pre-colored to replicate this warship's final painting during WWII. This model can be easily built thanks to its snap-fit design and self-adhesive stickers.