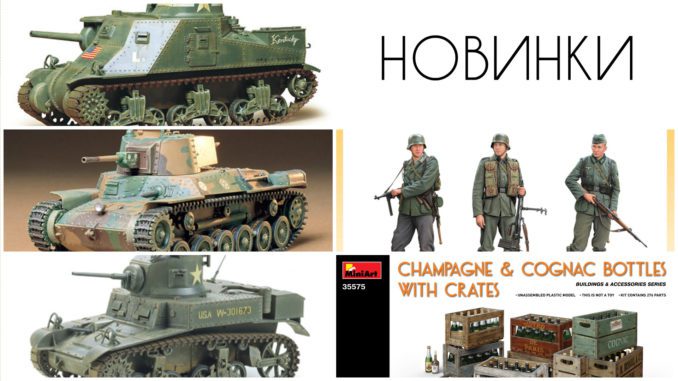 Набор от Tamiya – 1/35 U.S. Light Tank M3 Stuart Item No: 35042
Информация с сайта производителя:
Length=126mm Image shows finished model.)
★This is a 1/35 scale plastic assembly kit model of the U.S. army's main light tank the M3 Stuart, which was also used by Allied forces including the British and Russian armies during WWII. ★Compact style of the tank, including its riveted hull and turret, has been realistically reproduced. ★Tank crew figure as well as decals to depict the tank used by the U.S. (2) and British (1), and Canadian (1) armies included.
Набор от Tamiya – 1/35 U.S. M3 Tank Lee Item No:35039
Информация с сайта производителя:
Filling the breach
The M3 Lee medium tank was the main U.S. counter to the formidable tank forces available to the German army in the early stages of WWII. Before the M3 Lee was developed, the U.S. forces only had light tanks at their disposal as the 37mm gun M2 was already practically obsolete by the time it was ready for mass production. Given time constrictions, the solution chosen was to attach a 75mm gun to the M2's hull and attach the 37mm gun to a swiveling turret; 7.62mm machine guns were added to a further turret to give the new tank a distinctive 3-level form. It was named the M3. Despite problems such as limited rotation of the 75mm gun and the height of the tank making it rather easy to spot, its powerful weaponry and strong armor made it a highly useful stop gap for the Allied forces. It was also used by the British, who gave it the naming 'Lee' (or 'Grant' for versions with a different turret pattern). With the advent of the M4 Sherman, the M3 Lee saw more action in the Pacific Theater, tussling with Japanese forces until the end of the war.
Model Specifications
★1/35 scale plastic model assembly kit of the U.S. medium tank M3 Lee. ★Main gun, 37mm gun and 7.62mm machine guns are all moveable. ★Hatches can be attached in open or closed position according to user preference. ★Features faithful reproduction of armor including panel rivets. ★Complex suspension system is accurately depicted. ★Includes 2 marking options and 1 figure.
Набор от Tamiya – 1/35 Japanese Medium Tank Type 97 (Late Version) Item No: 35137
Информация с сайта производителя:
The Type 97 With More Powerful 47mm Gun
The Type 97 medium tank was an important presence for the Japanese army during WWII. It featured a low silhouette and was armed with a 57mm main gun. This late version featured a more powerful 47mm gun mounted in a larger turret, and an improved engine. It first saw action in May 1942 during the Battle of Corregidor in the Philippines and went on to serve as a mainstay for the Japanese army throughout the war.
About the Model
★This is a 1/35 scale plastic model assembly kit. Length: 159mm, width: 67mm. ★The riveted body plates typical of Japanese AFVs of the time are accurately captured. ★Separate parts are used to capture the unique suspension setup with aplomb. ★Removable engine grille allows inspection of the air cooler and other parts depicted inside. ★The 47mm main gun offers vertical movement, while the Type 97 machine gun is fully movable. ★Choose between open or closed cupola hatch. ★No less than 6 marking options included!
Набор от Dragon – 1/35 "Battle Of Smolensk & Roslavl 1941" (3 Figure Set) with Bonus DS Uniform & Boots (Limited) Item No: 6791
Информация с сайта производителя:
Barcode: 0 89195 86791 9
Case Pack: 48
Box Size: 6.4″ x 10.2″ x 1.5″
Dragon already utilizes high-tech engineering processes to create its kits, but now the newest-generation technology is influencing – and improving – its 1/35 scale range of figures. So just what is this newest technological leap forward? It's figure sets that are wholly designed using computers. In other words, no master figure is produced or needed. From initial design through to final tooling using advanced computer programs, 100% of the detail is retained in the computer files. Indeed, the results are evident in Dragon's newest set of 1/35 scale German infantry. There are three figures in this new set depicting soldiers fighting in the Battle of Smolensk and Roslavl in 1941. After enormous success during the invasion of Russia, German forces were delayed at Smolensk from 10 July to 10 September 1941. Although a Russian counterattack there failed, this defensive battle was critical to Russia as it slowed the German advance and made reaching Moscow that much more difficult.
The poses of these three soldiers are designed to be universally versatile. The trio is standing in relatively relaxed poses. A close examination of these molded plastic figures reveals how impeccable all the computer-generated detail is. Whether it's their faces, hands, uniforms or belts, these figures are truly full of intricate detail. To make this first such figure set even more appealing, the box includes a number of BONUS accessories made of DS materials. These are all bonus items in addition to the hi-tech figures themselves. While these German soldiers might be just standing around, the technology that Dragon used to create them has leapt forward by a generation!
Набор от Miniart – 1/35 БУТЫЛКИ  ШАМПАНСКОГО  И  КОНЬЯКА  С  ЯЩИКАМИ Item No:35575